How to fit the clothes chest size?

A few weeks ago a lovely woman turned to me, she wanted to consult with me before breast reduction surgery. she told me that she already set an appointment, but wanted to check Perhaps there is.
I referred her to the store that I thought fit her, and I gave her some tips on what you should wear when big breasts.
Later arranged to meet at her house, when I arrived she greeted me with a smile and a big hug and told me that she had decided not to have the surgery!
I was so happy that some simple tips were able to save from expensive medical treatment and also her volunteer event More …
Not only is- many ask me what you should wear when big breasts (or small) the truth is that right clothes can not only reduce the size of the body-building
But also the size of the breast.

This article is intended to do some order about what to wear and what to stay away, when big-or small chest.
So let's get started,
1. It is important to understand! – chest size is not related to the structure of your body!
No matter if your body structure is a triangle, rectangle or blue clock has no connection or dependency between breast size structure.
2. The reference chest "big" or "small" is not a uniform one  is dependent on the proportions of your body. And what does it mean?
Suppose we consider the Cap DD bust fits in one, chest size will be proportional to the body, and the second is to look at relatively large.
And the same for breast considered little- Cap B for example, can be reduced compared Lfrofrotziot of one, but suitable proportional another woman.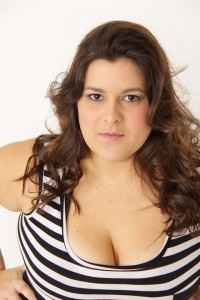 After all this introduction, we can start:
What to wear when you have big breasts?
Often women with big breasts look larger and fuller than they really are, that when a relatively large chest proportions of the body rather than packaged as-Should a situation with your upper body looks great and even swollen.
After adjusting for yourself the right bra, it is important to know to choose the right clothes:
in terms of shirts type Fabric notice, the most important thing! You should choose shirts made of poured shirts that fall softly on the body rather than cling too, clinging Lycra shirts thus less fit if you want to cover your chest.
Bare-walled It may sound strange, but when a large bust we prefer to choose low cut tops on the closed-shirts (collar boat or golf).
When we try to hide the size of the chest with a closed-shirts or scarves, for example, what happens is exactly the contrary
instead of balancing the chest area, we add about volume and increased him- the addition of the fabric of this region only increases the surface area of ​​the upper body and therefore makes the bust look bigger!
So it is always better to choose shirts with round neckline or V.