Why Women Go With High Heels and Men Not
Ladies on hills. Isn't it wonderful?
Did you know high hills style shoes ment originally for men?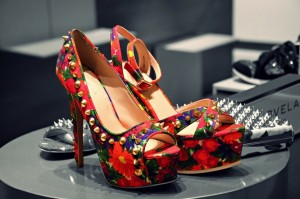 Women take their footwear very seriously if nothing else. From party to office, beach, casual use, women need different shoes for every occasion. It is said that even 200 pairs in closet aren't enough to satisfy their fashion needs. High heels are always popular in women and never go out of fashion. Men though consider their comfort first rather than fashion.
HISTORY
> Egyptian Era
History shows that high heels were originally meant for men. Men had been wearing heels since 4000 BC. Pictorial evidence has shown men wearing sandals and heels, mostly butchers and labors, while working to keep their feet clean.
> 17th Century
Men kept wearing heels in 17th century but for their practical uses not as a fashion statement. Women also started wearing heels not exactly high heels and for fashion but to compete with the men. It was believed that high heels will give them masculine quality and enhance their male persona.
>Since 1900s
High heels became renowned in 1950s and 60s after various fashion icons of that time like Marilyn Monroe, Audrey Hepburn, Doris Day, Betty Grable etc. endorsed it and made it their fashion statement. Since then, high heels are deemed as fashion symbol among women.
As Marilyn Monroe said,
"I don't know who invented high heels, but all women owe him a lot."
Men stopped wearing heels eventually because they were linked with women then and weren't as practical in work. Nonetheless, heels for men are in fashion on and off but they never got such fame.
WHY WOMEN LOVE HIGH HEELS?
Whether they feel comfortable or not, high heels have always been women's best friends. They not only go with any type of clothing but also titivate them. From maxi dresses to miniskirts, rompers and jumpsuits, pants, jeans, thus high heels make your every look fantabulous! Some other reasons are:
> High heels make you look thinner, taller and smarter. By wearing them, you are adding few inches to your height. It lengthens your legs and gives you taller look.
> Want to look sexy, hot and curvy? High heels is the answer. Nothing looks sexier than a woman walking in heels confidently.
> Women in high heels not only catch everyone's eye but men find it attractive too. Studies have shown that men prefer heels wearing women over ones wearing flats.
> High heels prettify and beautify your overall personality and make your outfit fabulous.
>It goes with every type of clothing. High heels improve your appearance and smarten you up! Whether you are dressing up for office or a party, wear your favorite pair of heels and give yourself slimmer and smarter look.
>High heels boost your confidence. Short or even medium height shakes the confidence of women terribly. Wearing high heels can give you your lost confidence back.
>Unlike flats, high heels or pumps don't make you look fat. You can feel good about yourself in few minutes.