Sushi Kai and Mongolian Cuisine
Sushi Kai and Mongolian Cuisine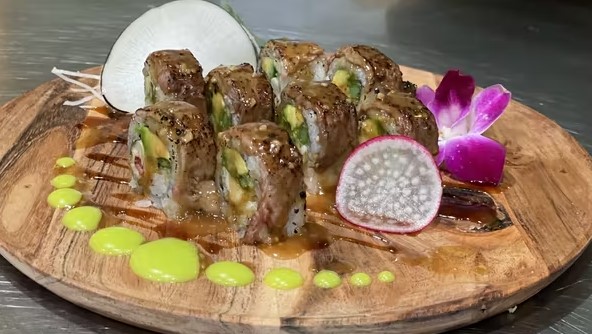 The menu at Sushi Kai and Mongolian Cuisine is a delicious mix of Japanese cuisine with selections such as Pan-Fried Pork Gyoza, Albacore Tuna Sashimi or Chicken Teriyaki. Find us near City of Brest Park on Colorado Blvd., order online for carryout or delivery!
When you're looking for some delicious Asian cuisine, there's only one place to go. Sushi Kai and Mongolian Cuisine has an extensive menu with items like pan-fried pork gyozas that will make your mouth water as soon they arrives at the table; albacore tuna sashimi served fresh off of their melt inpureed technique–not too mention chicken teriyaki or beef& broccoli! You can find us near City Of Brest Park on Colorado Blvd., order online if desired so we'll deliver right away (or carryout), have MANY vegetarian options available including vegan friendly dishes
The all-you can eat sushi restaurant is the perfect place for any foodie who loves fresh, tasty Japanese cuisine. With an array of delicious options available on their menu and at your fingertips as soon as you walk in; there's no need to worry about running out or having too much!
This Japanese restaurant is perfect for those who love sushi. They have an all-you can eat menu with delicious pieces of fish just waiting to be wrapped into your mouth! The place has a mall setting so it would feel more familiar than other traditional dining options in town, but don't worry if that doesn't appeal – there's also tons of checked bag deals and customizable boxes so you'll never run out food again (or miss any good opportunities).
Our reviews
"The costumer service was amazing! They were super nice! And the sushi was so freaking good!! We're not from Colorado so we chose this place randomly and don't regret it at all! Their plates are also the prettiest set ups ever!"
"My daughter and I came to Sushi Kai for lunch. We had never been before, but we were in the mood for sushi. This restaurant was five minutes from where we were, so we picked it. This was the best choice we could have ever made. The restaurant took covid precautions and ensured we were all safe. The music and atmosphere was warm, welcoming and fun. The owner came by and talked with us, and even treated my daughter Emilee to a special treat. The food was beautiful and beyond delicious! We may have stumbled upon them, but we have no doubt that this is our favorite sushi and Mongolian restaurant. We will be returning for sure! Thank you all for a wonderful experience. ❤"
Outstanding sushi! Very fresh and reasonably priced. The owners John and Monica go out of their way to please. You've gotta get in here and try the best new sushi bar in Denver!