Hello writers & bloggers
Welcome to delapage.com
Your space to express yourself.
Write your story and share it with our readers.
How It Works?
Just send us a document with your story (Title, short description, unique *content, images)
*Content can be commercial but it's better if you create an interesting and valuable content around your company, product or service.
What We Promise?
All stories we find relevant to our users will be published on delapage.com with your name.
We will advertise most popular stories in our campaigns and social platforms, making your stories viral.
Our Categories: Fashion, Music, Movies, Shopping, Food, Sports, Travel and more
Check out full list @Homepage
Check out samples of stories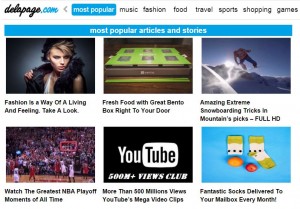 SO……